National World War II Memorial Tours - page 4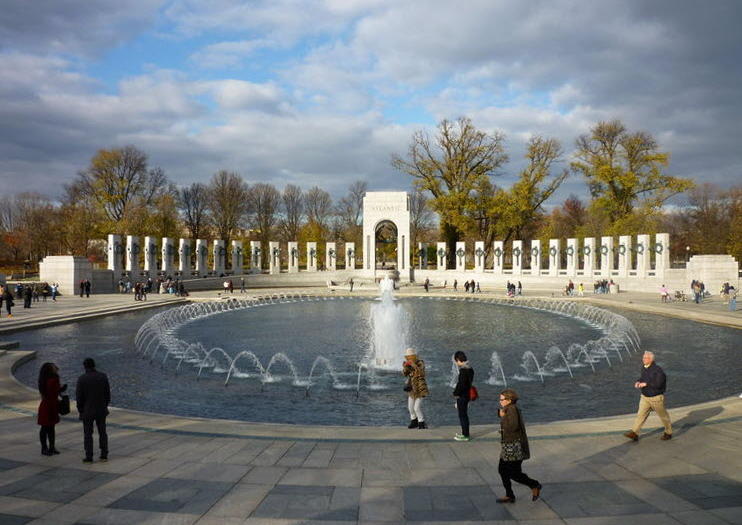 Part of the National Mall and National Park Service, this memorial to American citizens who served in World War II lies at the eastern end of the Lincoln Memorial's Reflecting Pool. Designed by Austrian-American avant-garde architect Friedrich St. Florian and dedicated in 2004, this 7.4-acre, oval-shaped site consists of 56 granite pillars, two triumphal arches, and a reflecting pool with two fountains.

Each 17-foot pillar symbolizes a different U.S. state or territory, and the two 43-foot arches are dedicated to America's victory in the Atlantic and Pacific theaters, respectively. On 24 bronze panels at the memorial's entrance, moving bas-relief scenes depict the process of drafting and training soldiers, sending them overseas and into battle, and welcoming them back home, either alive or dead.  A series of over 4,000 gold stars symbolizes the sacrifices made by over 400,000 Americans from "the Greatest Generation," and two pieces of "Gilroy Was Here" graffiti allude to the importance this cartoon soldier had for American troops abroad.

Visitor parking is available for free along Ohio Drive south of the Lincoln Memorial, or just south of the Jefferson Memorial in Lots A, B and C. No Metrorail stations are entirely adjacent to the Memorial, but the Farragut North, Metro Center, Farragut West, McPherson Square, Federal Triangle, Smithsonian, L'Enfant Plaza and Archives-Navy Memorial-Penn Quarter stations are all within several blocks' walking distance.

Park rangers are on-site each day and offer tours every hour on the hour, from 10 a.m. to 11 p.m.
Address:
Washington DC 20006, USA
Read More
Show Less
96 Tours and Activities to Experience National World War II Memorial
---