Palatine Hill (Palatino) Tours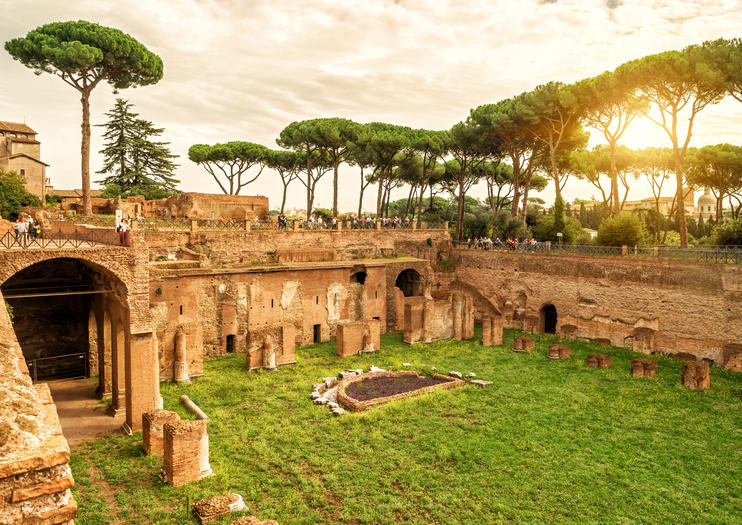 Of Rome's seven legendary hills, Palatine Hill (Palatino) figures most importantly in the capital's history and lore. It is said that Romulus founded Rome on this hilltop, and many of the city's most important archaeological sites dating from ancient times are located here.
The Basics
The remains of a number of palaces and villas built during the Roman empire are spread across Palatine Hill, including the House of Augustus (Casa di Augustus), Casa di Livia (residence of the emperor's wife), and Emperor Domitian's Domus Flavia, Domus Augustana, and Hippodrome. What remains of the 16th-century Farnese Gardens (Orti Farnesiani) are located on the ruins of the palace of Emperor Tiberius, offering beautiful views over the city. Palatine Hill is also home to the Palatine Museum, with a collection of artifacts discovered in the area's archaeological digs and a historic reconstruction of the huts where Romulus and Remus lived.
The Palatine Hill ruins are not easy to interpret to the untrained eye, as they are much less preserved than those in the Roman Forum. To best understand the sites and their historical and cultural importance, join a Palatine Hill tour led by a tour guide well versed in Roman history. Many walking tours and small-group tours stop at other ancient Roman monuments such as the nearby Colosseum and Forum, while others include a private tour guide and skip-the-line access to avoid any long lines. Consider combining your Palatine visit with a Colosseum tour, as single-entry tickets are available for Palatine Hill, the Roman Forum, and Colosseum.
Things to Know Before You Go
Palatine Hill is a must for Roman history buffs. Older kids also enjoy ancient Rome tours, typically when accompanied by a guide experienced in engaging kids.

Most of the hill ruins are open to the elements, so bring a hat and sunscreen in the summer, and dress warmly in winter. 

The archaeological site is spread out over the hillside along rough paths and uneven surfaces, so wear comfortable shoes. The site is not recommended for wheelchairs or strollers.

How to Get There
Palatine Hill is the centermost of Rome's seven hills, located just above the Roman Forum. The nearest metro stop is Colosseo along line B.
When to Get There
Since most of the archaeological ruins on Palatine Hill are outdoors, try to visit on a day with clear skies and mild temperatures. During the summer, the best times to visit are in the early morning or late afternoon.
Recent Excavations of Palatine Hill
This hillside overlooking the Circus Maximus and the Roman Forum is still being excavated, and archaeologists have recently unearthed a palace believed to be the birthplace of Augustus—Rome's first emperor. They have also found an underground cave that may have been the site of the ancient city's Lupercalia celebrations, marking the spot where the she-wolf nursed Rome's founder, Romulus, and his twin brother, Remus.
Address:
Palatine Hill, Rome, Province of Rome 00186, Italy
Read More
Show Less
0 Tours and Activities to Experience Palatine Hill (Palatino)
---