Didyma Tours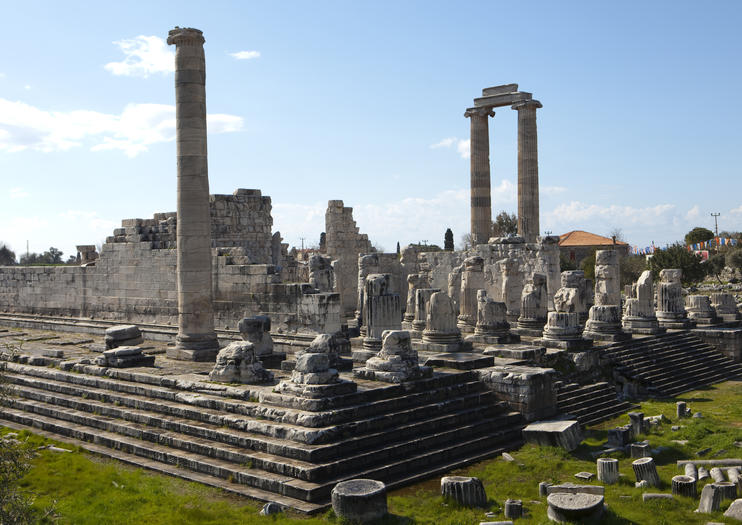 Located 48 miles (78 kilometers) south of Kusadasi in Turkey, Didyma is a sanctuary centered on the 2nd-century-BC Temple of Apollo, once among the largest in the ancient Greek world. Now reduced to giant broken columns and chambers, the temple once drew thousands of pilgrims who came to worship Apollo and consult its prophesy-giving oracle.
The Basics 
Visitors can explore Didyma by themselves simply by purchasing tickets at the gate. Once inside, they can then climb the steps to the temple to view the remains of its 72 towering columns—all stumps apart from three still standing. Other areas include the inner courtyard—where the cult statue was housed—and surrounding, scattered fragments, including a much-photographed, gigantic stone head of Medusa. 
Numerous Didyma day trips leave from Kusadasi, with most visiting the nearby ruins of Priene and Miletus along the way. Booking a tour ensures a hassle-free day's exploring with a guide for added insight and convenient round-trip transport. For a more flexible and immersive experience, consider a private tour with your own personal guide.
Things to Know Before You Go
Didyma is a must-visit for history aficionados.
Information panels in English can be found dotted around the site.
Bring sunscreen and a sun hat: There's no shade.
Restrooms are available near the entrance.
Didyma's many steps and uneven terrain are unsuitable for wheelchair users and difficult for visitors with strollers.
Allow around 60 minutes for a visit.
How to Get There
Located in Yenihisar village outside the small Aegean coastal town of Didim, Didyma is about an hour's drive from Kusadasi. Most visitors book tours to skip the hassle of rental cars, cabs, or buses. If you want to travel independently, however, your cheapest option is the bus. Regular services leave from Kusadasi—running every four hours or so—to the town of Soke, from where coaches operate to Didim. 
When to Get There
Didyma is open April to September daily from early morning until evening, with a slightly earlier closing time the rest of the year. In summer, tour groups tend to arrive midmorning, so aim to arrive near the opening time to explore when it's quieter. Alternatively, visit later in the afternoon before eating at one of the neighboring restaurants as the sun sets over the temple.
Highlights of Didyma
Having admired Didyma's Medusa head, don't miss the other must-sees. Walk through the marble tunnels leading to the inner courtyard, home to the spring the oracle drank from before issuing prophecies—they look like they were built yesterday. And marvel at the stone carvings at Didyma's eastern porch, which depict an ancient backgammon board.
Address:
Ataturk Boulevard, Didim 09270, Turkey
Read More
Show Less
0 Tours and Activities to Experience Didyma
---