Yedikule Fortress (Yedikule Hisari Müzesi) Tours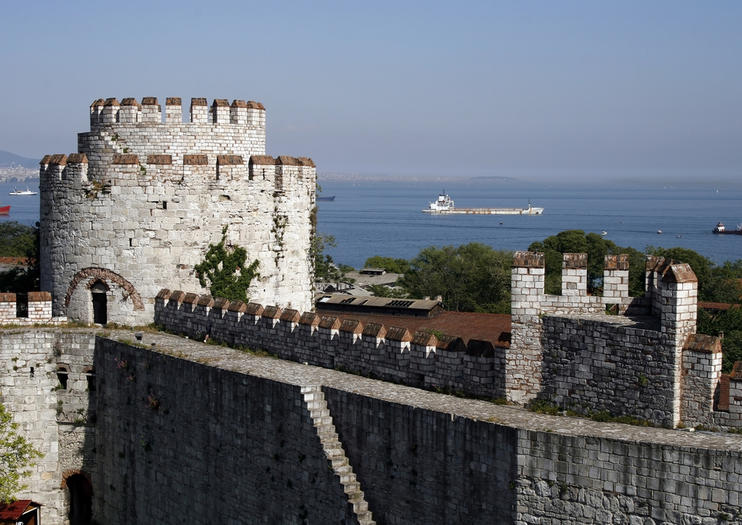 Marking the end of Istanbul's long Walls of Constantinople, Yedikule Fortress (Yedikule Hisari Müzesi) was built in the fifth century and was expanded during the Ottoman conquest of what today is Istanbul. The fortified structure, also known as the Fortress of Seven Towers, historically contained an infamous dungeon as well as a treasury and an armory.
The Basics
Built as the Golden Gate by Byzantine emperors, Yedikule Fortress was enlarged into a main military outpost soon after the conquest of Constantinople. Ambassadors and sultans were imprisoned—and sometimes executed—within its prison. The fortress that you see today integrates remains of the Byzantine structure and is surrounded by historical gardens.
Small-group and private tours often combine a visit to Yedikule Fortress with other sites around the Golden Horn, including the Walls of Constantinople, Pierre Loti Tepesi (Pierre Loti Hill), the Kariye Museum (Chora Church), and more.
Things to Know Before You Go
Yedikule Fortress is a must-visit for history buffs.

Wear comfortable shoes if you plan to use Yedikule Fortress as a starting point to walk the city walls.

Though the structure is not always open to visitors, the fortress grounds and gardens are open to the public.

The gardens of Yedikule Fortress are accessible to wheelchair users, but the fortress itself is not.

How to Get There
Yedikule Fortress is located in the Fatih district of Istanbul, near the Sea of Marmara. It is easily accessible via the Marmara metro line (nearest to the Kazlicesme stop) and several city buses that stop nearby. The fortress is also a short taxi ride from the city center. 
When to Get There
Official opening hours are 9:30am to 4:30pm Thursday through Tuesday, but currently Yedikule Fortress is most often closed to the public—though the gardens and grounds around the fortress are always open for wandering. If you're planning to walk the city walls, it's best to visit earlier or later in the day to avoid the hot midday sun; note that the walls are less safe after dark.
Yedikule's Gardens
Some of the Ottoman Empire's historical imperial gardens are located around the walls of the Yedikule Fortress. Called bostan, the gardens were used to provide fruits, vegetables, and greens to the nearby neighborhoods. The gardens around Yedikule have been maintained over the centuries, though they are constantly facing threats of destruction and development.
Read More
Show Less
0 Tours and Activities to Experience Yedikule Fortress (Yedikule Hisari Müzesi)
---