National Museum of Ireland - Archaeology Tours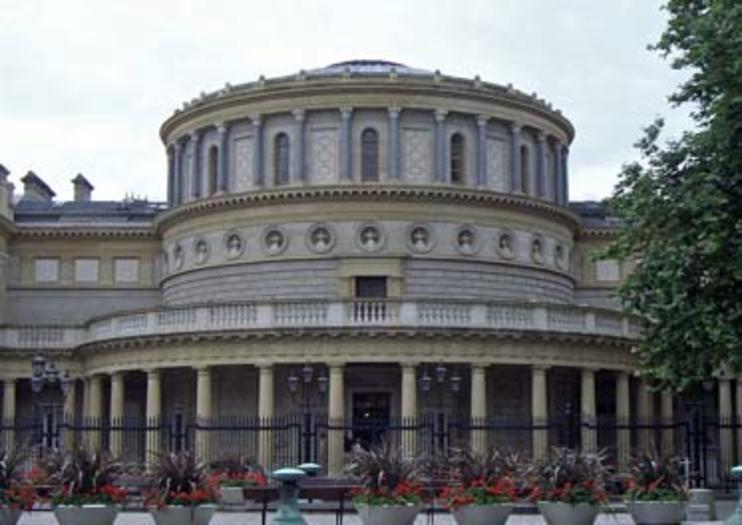 Founded in 1877, the National Museum of Ireland - Archaeology branch houses a vast and varied collection of precious archaeological finds. See well-preserved Iron Age bog bodies, Celtic gold jewelry, and other ancient treasures such as the eighth-century Ardagh Chalice, which was used to dispense altar wine, and the intricately detailed Tara Brooch.
The Basics
A common stop on hop-on hop-off tour bus routes of Dublin, this museum is designed to be explored independently. Tours and talks are held here occasionally, with places allocated on a first-come, first-served basis. Two of the three other branches of the National Museum of Ireland are also located in Dublin: the Natural History Museum on Merrion Square is a 10-minute walk, while the Decorative Arts and History location at Collins Barracks is about a 15-minute drive. 
Things to Know Before You Go
The National Museum of Ireland is a must-visit for history and archaeology buffs, and anyone curious about Celtic art.

All ground-floor galleries are accessible to wheelchair users, though the second floor is not. 

The museum houses a gift shop and a café serving locally sourced food.

How to Get There
The National Museum of Ireland is located on Kildare Street in Dublin. Take the Luas (tram) Green Line to St. Stephen's Green and walk five minutes to the museum, or take the Red Line to Abbey Street and walk 10 minutes. Dublin Pearse railway station is just 10 minutes away on foot.
When to Get There
The National Museum is open year-round. It attracts most visitors during the peak summer tourist season, and is busiest on weekends. Come on a weekday morning to experience the exhibits without the crowds. 
The Bog Bodies
Among the most attention-grabbing exhibits in the museum's collection are the bog bodies. These well-preserved Iron Age human figures were pulled from peat in the Irish countryside. As well as the jarring visible details—you can still see fingernails and even hair—they are also fascinating because of their backstories: according to archaeologists and historians, it's likely they were victims of torture and ritual sacrifice.
Address:
Kildare Street, Dublin 2, Ireland
Read More
Show Less
11 Tours and Activities to Experience National Museum of Ireland - Archaeology
Historical Tours
Design your own ideal (and cost-efficient) tour of Dublin's top things to do and see with the Dublin Pass and see attractions such as Guinness Storehouse, Jameson Distillery Bow St., and Glasnevin Cemetery Museum. With your single- or multi-day ticket, visit brew houses, museums, castles, cathedrals and more. Explore the city at your leisure on a hop-on hop-off bus sightseeing tour. Enjoy skip-the-line access to popular sites and discounts at city restaurants and shops. With free entry to more than 25 attractions around town, the Dublin Pass offers something for the whole family. Please note: Enjoy the extra flexibility in case your travel plans need to change: All passes (purchased by December 31) are valid for two year from purchase date and only become activated with your first attraction visit. After activation your pass will be valid for 30 days and/or the remaining number of attraction choices purchased.
---
Bus Tours
Explore Dublin at your own pace with Big Bus tour; your 24- to 72-hour ticket allows you to hop on and hop off whenever you like at more than 30 stops. Choose from two routes offered live or digital commentary that teaches you about Dublin's history and culture, and you also get access to a walking tour (with a 48-hour ticket) and included drinks at some bars and distilleries. Hop on and off as many times as you like to explore Dublin highlights at your leisure, such as St. Stephens Green, Croke Park, EPIC the Irish Emigration Museum, and others.
2 hours&nbsp25 minutes

Free Cancellation

Taking safety measures
Learn More
2 hours&nbsp25 minutes

Free Cancellation

Taking safety measures
---
Bus Tours
Maximize a short stay in Dublin with easy and efficient hop-on hop-off bus transport and fast-track access to the Guinness Storehouse. See as much of the city as possible, and get familiar with key sights as you listen to live commentary on board the open-top bus, then avoid lines at one of the capital's most popular, and therefore busy, attractions.
2 hours&nbsp25 minutes

Free Cancellation

Taking safety measures
Learn More
2 hours&nbsp25 minutes

Free Cancellation

Taking safety measures
---
Half-day Tours
Short on time and want to see as much of Dublin as you can? This tour has you covered. In five hours, you'll see many of the city's top attractions, from Trinity College to Dublin Castle, along with a host of other important historical and cultural attractions along the way.
Price varies by group size
---
Private Sightseeing Tours
Embark on a quest around Dublin by solving clues that will take you to the most haunted places in the city, all with the help of your smartphone. Unlock new stories as you discover on your own St. Ann's Church, Olympia Theatre, the River Liffey, and more. + Discover the most haunted streets, villas, and squares in the city + Find out the horror stories of the people who used to live there + Solve clues on your phone while you visit the haunted Dublin Each clue will lead you from one place to another, giving you exact directions, so you won't need a map, a GPS or a guide. When you solve it and guess the answer, the secret story of that place is unlocked. Along the way, you'll find horror stories that will give you the chills. Dare you go on this tour?
1 hour&nbsp30 minutes

Free Cancellation
$8.37
Price varies by group size
$8.37
Price varies by group size
Learn More
1 hour&nbsp30 minutes

Free Cancellation
---
Attraction Tickets
From the Vikings to the Normans, English royals to national independence, the story of Ireland is a tumultuous tale dating back hundreds of years. History enthusiasts can uncover the rich Irish story on this guided tour to several of the city's top landmarks, like Christ Church Cathedral, Dublin Castle, and Trinity College. Along the way, learn about important figures in Irish history, and even sip a pint of local beer in an historic pub—included in the tour.
---
Half-day Tours
This unique tour uses Ireland's artistic and literary wealth to explain the historical moments, traditions, wars, movements, and eras that have sculpted Ireland through the centuries. We'll explore the highlights of the National Gallery, National Library and National Museum, with a break half-way through. Consider those great cultural and artistic treasures that represent your country's history. For the USA, it is paintings like 'Washington Crossing the Delaware' and 'American Gothic' by Grant Wood, original manuscripts of Edgar Allan Poe and Walt Whitman, and objects full of cultural symbolism like The Liberty Bell. This tour will show you their Irish equivalents: - Symbolic paintings representing the Norman Conquest of Ireland and the Irish Civil War; - Insight into the life and works of W.B. Yeats - Ireland's Greatest Poet; - The Tara Brooch and the Ardagh Chalice – treasures that epitomise Ireland's Golden Age (500-800AD).
Price varies by group size
---
Cultural Tours
It's easy to get intimidated by the sheer volume of art, artifacts, and history contained in the National Museum of Ireland, so streamline your experience with this guided tour that takes you around the Museum's historical highlights. Learn the stories behind significant relics like the Ardagh Chalice and the Tara Brooch without worrying that you're going to miss something important in another exhibit. This tour also includes early admission to the Trinity College Library to visit the medieval Book of Kells manuscript.
2 hours&nbsp30 minutes

Free Cancellation

Taking safety measures
Learn More
2 hours&nbsp30 minutes

Free Cancellation

Taking safety measures
---
Full-day Tours
Do you enjoy Food, Pub, Museums, Culture tours and learning how the locals live? This tour comprises elements from all those tours to give you the most varied, comprehensive and enjoyable tour of Dublin possible! After 10yrs tour guiding private tours, and over 500 5-star reviews, Garvan has designed a tour to deliver an outstanding full day in Dublin. By the end of the tour, you'll have visited all the essential attractions, experiencing only the best of the National Gallery and National Museum, eaten lunch where the locals go, shopped for Irish artisanal foods & cheeses, paired them with Irish beer/whiskey in a locals' pub, visited a jeweller (or similar) and learned the methods & inspiration behind their art. As if that wasn't enough, you will have also gained not only an understanding but a powerful feeling for Irish history & culture. Most importantly of all, you'll have connected with an authentic Irish guide who wants to share a fantastically memorable & personal day with you.
Price varies by group size
---
Half-day Tours
You'll discover just how much fun you can have with your family in one of the oldest cities in Europe. Perhaps your little ones may be interested in Ireland's animals - you can visit the Aquarium or Zoo. Maybe they'll want to bounce around at the Leprechaun Museum, or explore Malahide Castle - whatever it is, it's your family's adventure and your host is here to make it as memorable as possible. With so many little gems to get through in 4 hours, your host will have the little ones as excited as the older family members. Within 24 hours after booking you'll receive a short questionnaire about your personality and interests. Based on your responses, you'll be assigned a like-minded host. Your host will communicate with you directly to suggest an itinerary to help you discover what makes the city unique. You will also agree on a meeting time and place. Your itinerary is flexible, so during the experience, you can always change your mind about what you want to do.
4 hours

Free Cancellation

Taking safety measures
Price varies by group size
Price varies by group size
Learn More
4 hours

Free Cancellation

Taking safety measures
---
Bus Tours
Maximize your time in Ireland's vibrant capital with a 24- or 48-hour hop-on hop-off sightseeing bus ticket. Discover Dublin's spectacular sights and listen to entertaining commentary as you cruise around the capital. Whenever a landmark captures your attention, simply disembark to explore further; see attractions like the Guinness Storehouse, Trinity College, and St. Stephen's Green and then simply rejoin your bus tour at a time and stop that suits your schedule. Entry to the Little Museum and a Dublin walking tour are included with the bus ticket.
40 minutes

to

2 hours

Free Cancellation

Taking safety measures
Learn More
40 minutes

to

2 hours

Free Cancellation

Taking safety measures
---
Frequently Asked Questions
The answers provided below are based on answers previously given by the tour provider to customers' questions.
Q:
What's the best way to experience National Museum of Ireland - Archaeology?
---