Inca Ruins in the Sacred Valley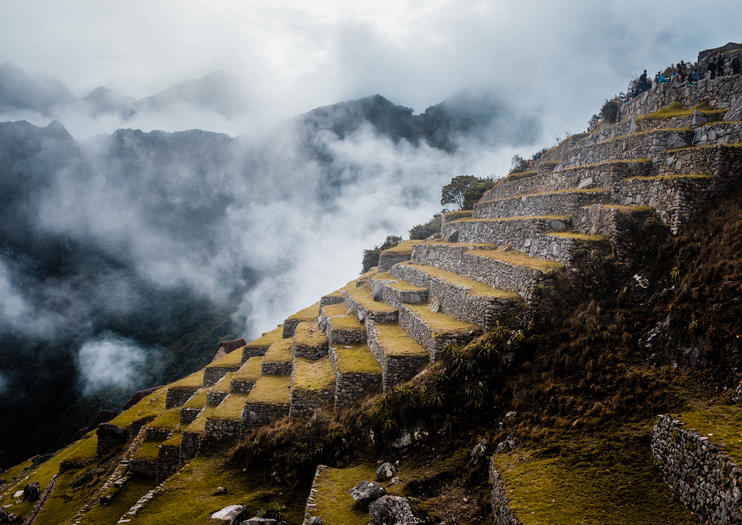 The one-time capital of the mighty Inca Empire, Cusco's biggest claim to fame is its impressively preserved Inca ruins, including the iconic Machu Picchu. Here are some of the most significant archaeological sites in the area worthy of a visit.
Machu Picchu
Machu Picchu, the Lost City of Incas, is perhaps the most famous archaeological site in all of South America. This UNESCO World Heritage Site encompasses a collection of temples, plazas, and terraced hills shrouded in mystery—nobody's sure why they were built and eventually abandoned.
Ollantaytambo Ruins
The ingenuity of the Inca civilization is on full display at this ancient fortress, built during the 15th century. Surrounded by terraced hills, the complex shows off classic Inca city planning, with fine examples of stonework. The fortress was the site of the Incas' greatest victory against the Spanish during the wars of conquest.
Pisac Ruins
While the ruins at Pisac were originally thought to be a fortress, archaeologists now think they were likely used as a religious site, observatory, and residential area. Often overlooked by visitors making a beeline for the Inca Trail and the area's more popular ruins, travelers might find themselves practically alone among the ruins or taking in the sweeping views from the top of the archaeological site.
Choquequirao
Nicknamed "the other Machu Picchu," Choquequirao sits in the mountains outside of Peru, where it only receives a handful of visitors each day. Accessible via a strenuous 2-day hike, these Inca ruins, complete with carved terraces and intricate stonework, offer a sense of tranquility that's difficult to experience at more accessible sites.
Sacsayhuaman
Sacsayhuaman represents one of the largest and most impressive ancient Inca sites on the outskirts of Cusco. This military stronghold was the site of a significant battle against the Spanish in 1536; many of its tiered, zigzag walls and a large ceremonial plaza remain. 
Moray
The Incas were some of the most successful farmers in the Western Hemisphere at the height of their civilization, and at Moray, it's easy to see why. What looks at first to be a giant crater is in fact a series of circular agricultural terraces linked by staircases. Each ring has its own microclimate, which allowed crops to be rotated throughout to test which temperature yielded the best results.
Read More
Show Less
Cusco Tours & Activities (13)
Day Trips
Spend a day exploring the Inca citadel of Machu Picchu during this all-inclusive day trip leaving from Cusco. Discover this renowned mountaintop Inca site with a guide, learning about its construction, history, and what daily life was like for its residents. The trip's relaxed, non-strenuous pace is a great option for first-time visitors, families, and solo travelers alike, and features three different train ride options. The trip also includes round-trip hotel transport, transfer from Cusco to Machu Picchu (via train and bus), and the site entrance fee.
14 hours

Taking safety measures
---
Overnight Tours
Discover the Sacred Valley and Machu Picchu on this 2-day tour. Visit key sites such as Pisac, Urubamba, and Ollantaytambo and discover their individual archaeological sites with your guide. Spend the night at Aguas Calientes, the village at the base of Machu Picchu, and rest up before catching the sunrise at the famous Inca citadel the next day.
2 days

Taking safety measures
---
Multi-day Tours
Experience the top highlights of Lima, Cusco, and world-famous Machu Picchu during this 7-day, 6-night excursion. Spend your first two days in cosmopolitan Lima, discovering its landmarks, shopping, and top-notch cuisine. Then head to the ancient Inca capital of Cusco to explore its fascinating mix of indigenous and colonial architecture, and then it's on to the iconic mountaintop citadel of Machu Picchu. This week-long, budget-friendly Peru trip, including plenty of free time for independent exploration, also includes all transport, admission fees (including at Machu Picchu), six nights of accommodation and daily breakfast.
7 days

Taking safety measures
---
Day Trips
Uncover the fascinating architecture and culture of the ancient Incas during this full-day tour covering the highlights of Peru's Sacred Valley from Cusco. Check out the market in Pisac, stopping on Sundays to observe its famous mass. Then visit the Inca settlement at Ollantaytambo and explore the ruins of its fortress and the Temple of the Sun, a mysterious structure composed of giant 12-foot (3.5-m) stones. Your Sacred Valley tour also includes a guide, lunch, and round-trip hotel transport.
8 hours

Free Cancellation

Taking safety measures
Learn More
8 hours

Free Cancellation

Taking safety measures
---
Overnight Tours
Explore the wonders of Peru's Sacred Valley on an exhilarating 2-day small-group excursion from Cusco. Stroll through the traditional town of Pisac to discover the captivating colonial history of the region and visit the workshop of a local artisan. See the ancient Inca salt mines at Maras that are still in use today, and walk around the mysterious ruins of Ollantaytambo to see the Temple of the Sun. This tour is limited to 15 travelers for a more personalized experience.
2 days

Free Cancellation

Taking safety measures
Learn More
2 days

Free Cancellation

Taking safety measures
---
Day Trips
Explore the ample attractions just outside Cusco as you enjoy a full-day tour of the attractions of the Sacred Valley and Urubamba Valley in Peru. Visit the archaeological site at Moray, used by the Incas as an agricultural testing ground. Then discover the Inca-era salt pans of Maras, a series of intricately terraced ponds used to gain salt. Visit Chinchero, a picturesque town that's home to a collection of Inca-era walls and an Andean textile center. This guided tour includes round-trip transport from Cusco hotels.
7 to 8 hours

Free Cancellation

Taking safety measures
Learn More
7 to 8 hours

Free Cancellation

Taking safety measures
---
Day Trips
Visit one of Peru's most famous areas, aside from Machu Picchu, on this 10-hour day trip to the Sacred Valley from Cusco. Pass through the ancient Inca sites of Saqsaywaman and Tambomachay, and explore the Inca site of Pisac. Along the way, visit a Peruvian weaving house, and see a demonstration on dyeing and weaving techniques. Plus, this tour operates with a maximum of 15 people, ensuring you'll enjoy a small-group experience your expert guide.
1 day

Free Cancellation

Taking safety measures
Price varies by group size
Price varies by group size
Learn More
1 day

Free Cancellation

Taking safety measures
---
Day Trips
Maximize your sightseeing time in Peru with this convenient full-day trip to the famous Machu Picchu. Travel through rugged mountain valleys by train before ascending by bus to this iconic  Inca citadel. You'll enjoy a two-hour guided tour of the site's most important landmarks followed by time for independent exploration. Round-trip transport from Cusco is included.
10 to 12 hours

Taking safety measures
---
Day Trips
Experience Peru's Sacred Valley at a more laid-back pace during this 7-hour private cycling adventure. Start with a visit to a llama farm before climbing aboard your bike for the ride to Urubamba. Admire views of lush farm fields filled with quinoa and the winding Vilcanota River as you ride. After a stop for lunch, you'll explore the ancient Inca site of Ollantaytambo, learning about this fascinating South American civilization from your guide.
7 hours

Free Cancellation

Taking safety measures
Learn More
7 hours

Free Cancellation

Taking safety measures
---
Nature and Wildlife
The Sacred Valley is home to some of Peru's most impressive Incan ruins, with ancient temples and agricultural features dotting the landscape. On this morning or afternoon tour, explore the Sacred Valley the traditional way on horseback with your guide. Discover natural sites of interest including the Chicon glacier, the Salineras salt pools, and Urubamba River—with pickup and drop-off at your Sacred Valley accommodation included.
---
Nature and Wildlife
Explore the top Inca sites in Cusco by bike during this 4-hour cycling adventure with a private guide. Get personalized attention as you pedal through the ancient streets of Cusco and the surrounding area, stopping to visit the Inca fortress of Sacsayhuaman, the one-time palace of Inca Huayna Capac (today the church of San Francisco) and the many caves and rock carvings at the Temple of the Moon. This bike-themed visit in Cusco also covers a private guide, cycling equipment, water and entrance fees.
3 hours

Free Cancellation

Taking safety measures
Learn More
3 hours

Free Cancellation

Taking safety measures
---
Multi-day Tours
Take the route less traveled to Machu Picchu on a multi-day trek from Cusco. Travel by bus to Mollepat and then embark on foot along Salkantay, a quiet alternative to the often-crowded Inca Trail. Four the next four day you'll hike in the shadow of snow-capped mountains and pass among tropical jungle, stopping at ancient archaeological sites en route. At night bed down in tents beneath the stars. Once reaching Llucmabamba hop the train to Aguas Calientes. The next day the Lost City of the Incas is yours to explore.
---
Multi-day Tours
Follow in the footsteps of the ancient Inca people on this 4-day hike to Machu Picchu along the sacred pilgrimage route of the Inca Trail. During the challenging trek to this world-famous citadel and UNESCO World Heritage site, you'll explore ancient ruins, admire majestic mountain views and see diverse plant and animal life. This tour includes transfers to and from the start of the trail, entrance fees, experienced guide and porters, camping equipment and meals during the hike.
---
---