Agricultural Terraces of Moray Tours and Activities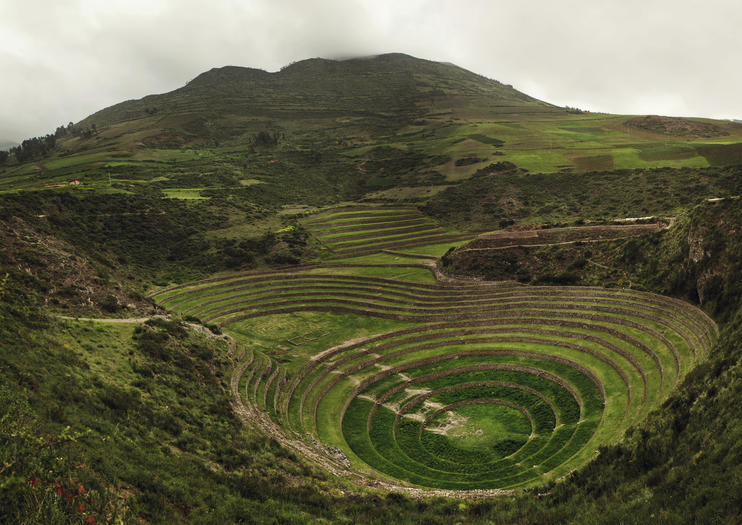 Of all the surviving Inca ruins which surround the Sacred Valley, most are known for their size, their age, or their complex level of construction. The Agricultural Terraces of Moray, however, located 31 miles northwest of Cuzco, stands out from many of the other ruins for its fascinating level of genius.
At the height of the empire, the Inca were regarded as some of the most successful farmers in all of the Western Hemisphere. Crops such as maize, quinoa, and various potatoes trace their roots to Andes, and the yield on crops which were farmed by the Inca regularly trumped those of their neighbors. 
Although the Agricultural Terraces of  might just look like a big hole in the ground, historians theorize that this multi-terraced depression explains the reason for the agricultural prowess. With concentric circles spiraling down into the Earth, the Moray is comprised of numerous terraces linked by zig-zagging steps. While it could almost even be classified as art, the Moray is instead a wonder of science.
For inexplicable reasons, the temperature difference between all of the terraces can sometimes be as much as 27°F. Consequently, each terrace has a unique microclimate which subsequently experiences its own temperature. Without even having to leave the valley, the Inca had created an agricultural laboratory which mimicked the temperature throughout the empire. Crops would be rotated from terrace to terrace, and when it was found that a microclimate maximized yield, the knowledge would be spread throughout the empire so that farmers could grow crops which were best for their climate. Through trial and error at the Incan Moray, the Inca slowly became masters of agriculture.
Today, the Moray can be visited with tours which depart from the city of Cuzco. It is often combined with a visit to the Salineras salt mine, a massive quarry of terraced mines where laborers harvest bags of salt. When combined with the markets and surrounding ruins, the Moray is just one of the fascinating sights which recall the wonders of the Inca.

Practical Info
The Moray is located 30 miles northwest of Cuzco, and it is accessible by tour in conjunction with the Maras salt mines.
Read More
Show Less
0 Tours and Activities to Experience Agricultural Terraces of Moray
---