Saqqara (Sakkara) Tours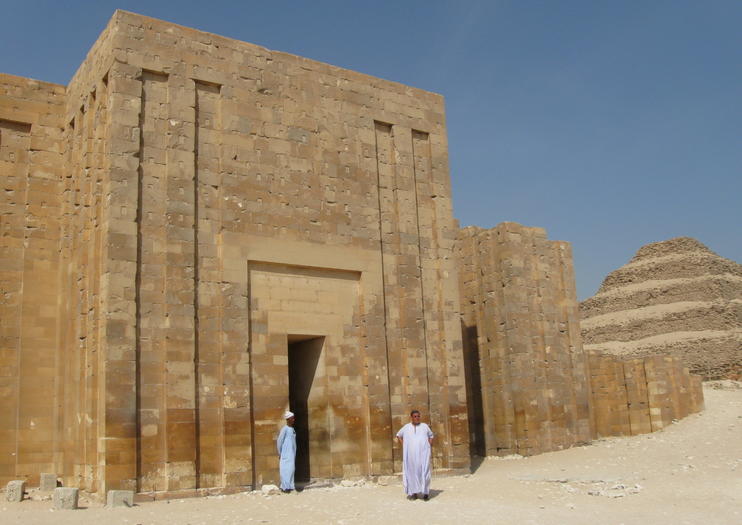 Set about 18 miles (30 kilometers) south of Cairo, Saqqara (Sakkara) was the burial place for the ancient Egyptian capital of Memphis, now in ruins. The site features a small sphinx and several pyramids—the most famous of which is the Step Pyramid of Djoser, which represented a major advance in building techniques.
The Basics
Besides pharaoh Djoser, another 16 kings built their tombs at Saqqara, and the area was used for burial until well into Roman times. Other important monuments on the UNESCO-listed site include the Pyramid of Unas, the Pyramid of Sekhemkhet, the Mastaba of Ti, and the underground Persian Tombs. Guided day trips from Cairo typically stop at Saqqara along with the Giza pyramids and the Great Sphinx of Giza.
Things to Know Before You Go
There's very little shade at Saqqara—don't forget your hat, sunscreen, and water.
Wear shoes adequate for navigating desert terrain.
Some guided tours offer wheelchair-accessible transport, but expect uneven surfaces on the site.
How to Get There
There's no public transit from Cairo to Saqqara, so either hire a car or book a tour that includes round-trip transportation. In addition, the attractions are spread out, so you'll need a driver to help you explore the entire site. 
When to Get There
If you're there in summer, visit Saqqara in the morning to beat the worst of the heat and crowds. Also, traffic between Cairo and Saqqara is usually less congested on Friday and Saturday, as most Egyptians work Sunday through Thursday.
Why Were the Kings Buried in Pyramids?
As part of their belief in the afterlife, the ancient Egyptians thought that part of a king's spirit remained with his body. So in addition to mummification, the king's corpse and possessions were preserved in a pyramid or tomb. Throughout King Djoser's reign, builders assembled his pyramid's six layers of stone, as well as the surrounding complex.
Address:
Saqqara, Giza Governorate, Egypt
Read More
Show Less
915 Tours and Activities to Experience Saqqara (Sakkara)