Anjar Tours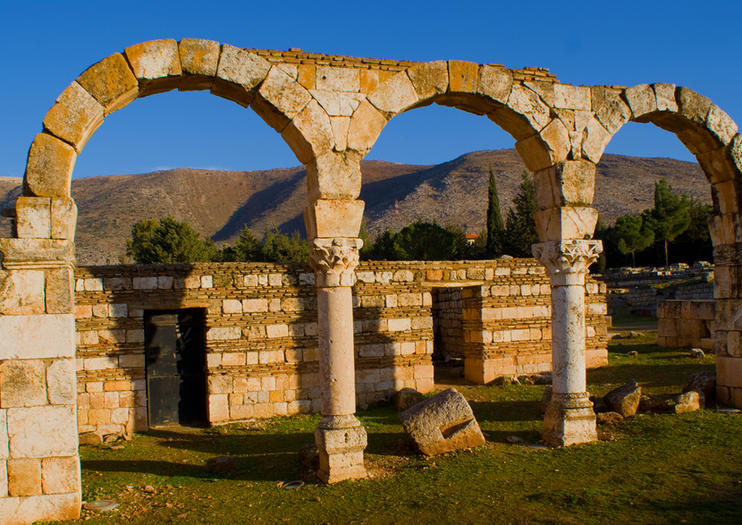 Founded in the early eighth century, at the start of the Islamic period, the UNESCO World Heritage Site of Anjar is a fascinating example of an Umayyad fortified city. Set in Lebanon's Bekaa Valley astride an important trading route, Anjar highlights include the remains of palaces, a mosque, and Roman-style public baths.

The Basics
While there's accommodation in the nearby town of Anjar, the ruins of Anjar are typically visited as part of a Bekaa Valley day trip from Beirut. Tours generally combine it with the Bekaa Valley's signature sight, the UNESCO-listed Roman ruins of Baalbek, and a winery, such as Château Ksara or Château Kefraya. Anjar tours typically include a circuit of the site to get a sense of the scale, followed by a walk along the main street with stops at palaces, the mosque, and the baths.

Things to Know Before You Go
The ruins of Anjar will be of interest to history buffs.
Safety in this part of Lebanon has come into question due to terrorism and armed conflict, according to the US Department of State. Travelers considering a visit should refer to their government's travel advisories for the latest information.
Anjar's dirt pathways are uneven and can turn to mud at rainy times of year.
The town of Anjar has a substantial Armenian community. It's well worth stopping for a taste of Armenian food.
How to Get There
The ruins of Anjar are located just outside the little town of Anjar in the Bekaa Valley, close to the Syrian border, about 38 miles (61 kilometers) east of Beirut. It's possible, if time-consuming, to piece together minibuses from Beirut's Cola station to Anjar by way of the city of Zahle. Given the Lebanese driving style and the Bekaa's checkpoint hassles, most travelers will find it easier to join an organized tour than to drive.

When to Get There
The ruins of Anjar are open from morning to afternoon seven days a week and are rarely busy. Late spring through early fall (roughly late April until October) are the best times to visit. During winter (December through February), the Bekaa Valley can be surprisingly cold, while rains can make the site unpleasantly muddy.
Who Were the Umayyads?
The Umayyad dynasty ruled the Muslim caliphate from AD 661 to 750, mainly from Damascus in modern-day Syria. Their building style combined Byzantine architecture with Persian influences. Besides Anjar, other Umayyad monuments include Jordan's Qusayr Amra desert castle, the Great Mosque of Damascus, and the Dome of the Rock, in Jerusalem.
Read More
Show Less
29 Tours and Activities to Experience Anjar
Frequently Asked Questions
The answers provided below are based on answers previously given by the tour provider to customers' questions.
Q:
What's the best way to experience Anjar?
---