Portuguese Synagogue Tours - page 2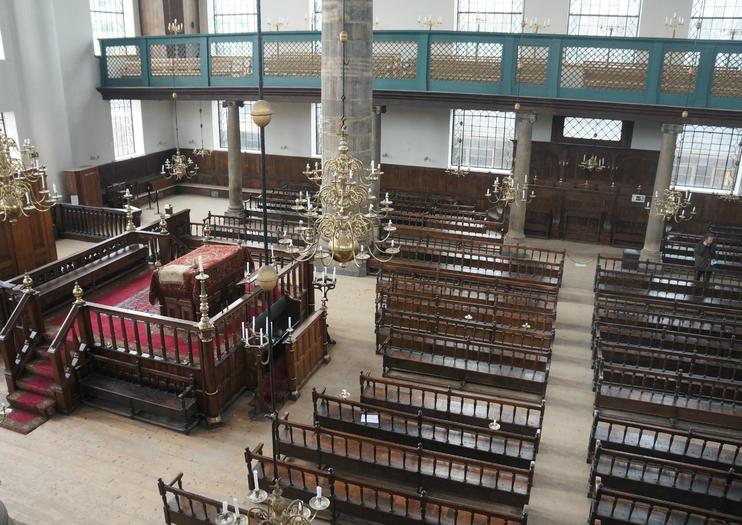 The Portuguese Synagogue in Amsterdam is one of the most significant remnants of Jewish history in the city. Built between 1671 and 1675, the synagogue has been restored over the years, but overall it stands today as it did over 300 years ago.
The Basics
The Portuguese Synagogue is located in a complex that also houses a number of other buildings, including the rabbinate, a mortuary, and the Ets Haim (Tree of Life) library, which is home to a valuable collection of Sephardic Jewish manuscripts. Still in use by the Jewish community in Amsterdam, it also attracts swaths of visitors who come to marvel at its ancient architecture and beguiling interior.
Things to Know Before You Go
The Portuguese Synagogue is a must-visit for those interested in history, architecture, or Judea.
Remember to dress conservatively, out of respect for religious traditions.
Hours vary so check with the synagogue, especially if your visit coincides with major Jewish holidays.
How to Get There
The Portuguese Synagogue is located at Mr. Visserplein 3, right across from the Botanical Garden. It can be reached via tram line 9 or 14, or via the 51, 53, or 54 metro line to the Waterlooplein stop. It's about a 20-minute walk or 5-minute metro ride from the Centraal railway station.
When to Get There
Opening times for the Portuguese Synagogue vary throughout the year, and the synagogue is closed on Saturdays for Shabbat, Jewish holidays, and for special events. Services are held on Shabbat evenings and mornings, again on Sunday mornings, and on holidays, but they aren't open to non-Jews, and Jewish visitors need to register ahead of time and bring ID.
The History of Jews in Amsterdam
Amsterdam has had a large Jewish population due to a mass migration that took place from the late 15th century through the 16th century after the Spanish and Portuguese inquisitions, including crypto-Jews, or Marranos, who had been forcibly converted to Catholicism but secretly continued to practice Judaism. Community members fled persecution in Spain and Portugal in search of a more accepting and tolerant society, migrating to far-off places such as Brazil as well as closer destinations, such as Amsterdam.
Address:
Mr. Visserplein 3, Amsterdam 1011 RD, Netherlands
Read More
Show Less
27 Tours and Activities to Experience Portuguese Synagogue
The old inner city of Amsterdam is incredibly picturesque! Here you can see the narrowest houses, crooked alleyways, hidden yards and gardens for butterflies! During this wonderful walking tour, we would like to tell you about Dutch history, traditions, national character and, most importantly, figure out how this place built below sea level, became one of the freest and progressive countries in the world! We will meet you at the Amsterdam Centraal Station, where we will share some wonderful facts about its history, old transport system in the Netherlands and talk about relationships between catholics and protestants after the 80 Years War. Slowly strolling along cozy canals and enjoying the view of old brick buildings and majestic churches, we will find out more about this multifaceted city. We will talk about old and modern lifestyle of Amsterdammers, about their preferences in architecture, fashion, leisure or food and about many other interesting subjects.
---
An outstanding experience, an astonishing story ! I will take you along 12 generations (more than 400 years!) of my family to personalize the Jewish history of Amsterdam. From the 17th century till today, I connect all aspects of Jewish life in Mokum ( = Jiddisch for Amsterdam) in to the Waterman's & Casseres families and their descendants. I will let you experience: * Jewish live in Amsterdam before the war, when my gramdmother became famous with her free chicken soep, on shabbat, in her cigar store. * The hiding under the store floor during "razzia's" and all neighbors were send to the camps,  * The SS soldier who warned my grandfather, followed by the hiding under a roof for over more than 3 years * pass by important historical sites of Jewish Amsterdam, such as: Portuguese es noga, Hollandse schouwburg, Jewish historical museum & holocaust memorial site * mini language course Amstedams - Jiddisch * free tasting of 3 famous & authentic Jiddische pastrys  
---
Meet your guide at Waterlooplein and explore the centuries-old Jewish quarter and learn about the life of Anne Frank. Learn all about the background of the original Jewish quarter and how it has changed in the past centuries. Hear Anne Frank's story from beginning to end. From her move from Germany to the time she was hiding and her father's life after the war. Learn about her diary, how it was published and how it became one of the best selling books of all time. See many sights like the Joods Historisch Museum, the Auschwitz Monument, the house of Anne Frank, the Portuguese Synagogue and the Jewish Council headquarters. Visit several historical monuments and buildings and learn about life during the second World War. Also discover many hiding places where jewish families sought refugee. At the Anne Frank house you will enter a boat and cruise around the Amsterdam canal ring. Sit back and relax as you see some amazing sight while getting to know all about your surroundings.
Price varies by group size
Price varies by group size
Guides required to regularly wash hands
Taking safety measures
---
---